Skip to Main Content
It looks like you're using Internet Explorer 11 or older. This website works best with modern browsers such as the latest versions of Chrome, Firefox, Safari, and Edge. If you continue with this browser, you may see unexpected results.
Suicide Prevention Hotline & Website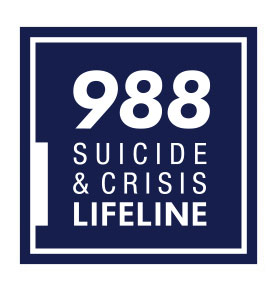 We can all help prevent suicide. The National Suicide Prevention Lifeline provides 24/7, free and confidential support for people in distress, prevention and crisis resources for you or your loved ones, and best practices for professionals. Services are available in English and Spanish.
Please note, the previous 1-800-273-TALK (8255) number will continue to function indefinitely.
For more information about services, click here.
Crisis Text Line
Free 24/7 help
Text HOME to 741741 and speak anonymously with a Crisis Counselor
National Institute of Mental Illnesses
If you or someone you know has a mental illness, there are ways to get help. Use these resources to find help for you, a friend, or a family member.
---
For general information on mental health and to locate treatment services in your area, call the Substance Abuse and Mental Health Services Administration (SAMHSA) Treatment Referral Helpline at 1-800-662-HELP (4357).
CSI Counseling Services
Personal Counseling: Our goal is to create a safe, supportive and affirming environment for all students. Occasionally, students encounter difficulties which challenge their coping skills and undermine their success in academic and personal endeavors. Such difficulties might include academic struggles, relationship problems, depression, anxiety, alcohol or substance misuse, eating problems, and more. Our services provide brief counseling therapy to help students make satisfying career and life choices.
Taylor Building 202 (upstairs)
Phone: (208) 732-6260
Mon-Fri 8am-5pm
Canyon View Behavioral Health Services (St. Lukes)
Your mental health is important to your overall health, and sometimes inpatient treatment is needed in order to restore balance. Our programs address acute psychiatric issues, in addition to medical detoxification from alcohol and drugs. We use individual, family, and group counseling to address personal, family, emotional, psychiatric, behavioral, and addiction-related problems. The common goal of our programs is to help you find positive solutions to resolve the challenges or crisis in your life.

Patients are typically accepted after referral from an emergency room encounter.

Most medical insurance plans cover all or part of the cost of care. Financial arrangements are also available. For information or to arrange a confidential consultation without cost or obligation, please call our 24-hour help line.
(208) 814-7900

228 Shoup Ave. W. / Twin Falls, ID 83301
Canyon View Behavioral Health Services
24-hour Help Line

Toll Free: 1-800-657-8000
Crisis Center of South Central Idaho
The Crisis Center of South Central Idaho is a behavioral health treatment facility, serving the citizens of south central Idaho. The facility provides services on a voluntary, outpatient basis for adults who need support for their mental health challenges and/or substance use disorder issues.
Clients may remain in the facility up to 23 hours and 59 minutes. No one will be refused service because of race, color, religion or because of inability to pay.
Phone: (866) 737-1128
Address: 570 Shoup Avenue / Twin Falls, ID 83301
Idaho Community Resources and Services Guide
Community Resources and Services

This site has a listing of many resources available to citizens living in Idaho. These include public agencies, hotlines and support groups. 
RAINN - National Sexual Assault Hotline
How can the Online Hotline help me?
Chat one-on-one with a RAINN support specialist to access a range of free services including:
Confidential support from a trained support specialist
Someone to help you talk through what happened
Resources that can assist with your next steps toward healing and recovery
Referrals for long term support in your area
Information about the laws and resources in your community
---